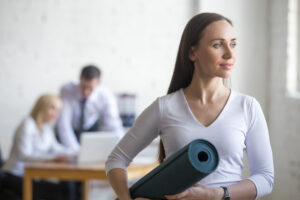 The benefits of yoga on both a personal and a professional level are well documented by medical research. In the office, yoga has been shown to boost productivity as well as improve overall employee wellness. Yoga in the Triangle offers yoga classes onsite within a business, non-profit, or larger organization's office. There are a few key benefits we have seen for companies and business owners:
Increases productivity
Improves staff wellness
Boosts team morale and engagement
Your yoga teacher comes in and creates a welcoming, intimidation-free environment to help staff and leaders get the most out of the classes, no matter their experience and ability.
But Where?
Many businesses don't have a wide-open room in the office. We design the yoga class around your space. Workplace yoga instructors have taught in unusual areas such as conference rooms, hallways, and break-room kitchens. Your company's yoga space might be a lobby entrance, a lounge, a courtyard or even an outdoor space around the office building (weather permitting).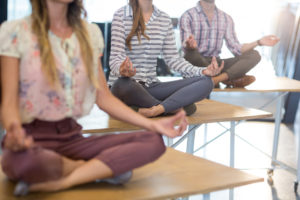 For those offices with very limited space, we offer desk yoga and meditation classes. Space limitations are no obstacle to wellness in the workplace.
Often, business owners are concerned that having a yoga class in the office will detract from work. Yoga in the Triangle responds to your company's needs with flexibility and is always mindful of your time and your team's attention. We customize the yoga class to your schedule and your environment.
Take a moment to look through our office yoga class options now.
How to Schedule Yoga in Your Office
Set up a consultation with Tiffany to discuss your company's goals. We'll review your team's needs, your space, and budget. Your yoga class will be designed and delivered to your office at your scheduled class time.