Private yoga classes
in your home or office
Let the yoga studio come to you
Serving Raleigh, Durham, Apex, Cary, and Holly Springs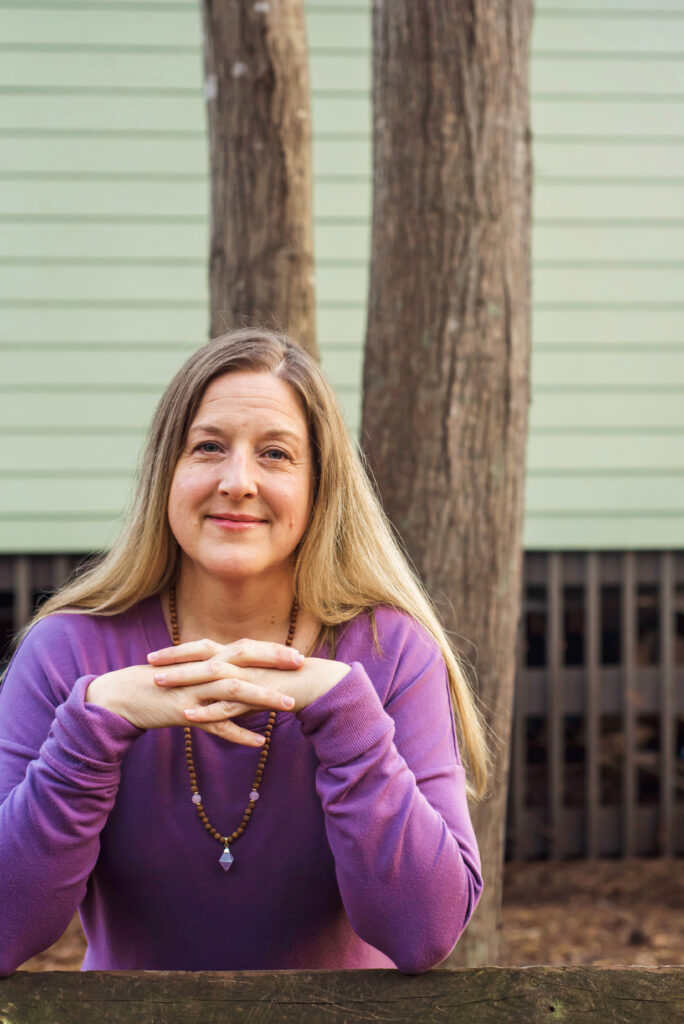 Private Yoga Classes delivered
Busy schedules and complicated group classes at a studio don't have to hold you back from enjoying the benefits of yoga.
Yoga in the Triangle offers private, personalized yoga classes where it's convenient for you – in your home or workplace – reducing schedule conflicts, commute time, and stress.

The benefits of
yoga on you
r schedule
With convenient weekday morning and afternoon times available, Registered Yoga Teacher Tiffany Candioti travels to your home or office and sets up a yoga "studio" in a space that works for you.
All you have to do is open your door!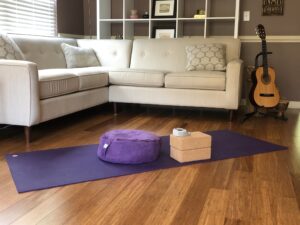 Private Yoga
Yoga in the Triangle founder Tiffany Candioti brings the yoga studio to you, with private yoga sessions taught right in your home. Each session is personalized based on your comfort and experience level. Private at-home yoga is perfect for work-at-home professionals, expecting mothers, retirees, and busy parents.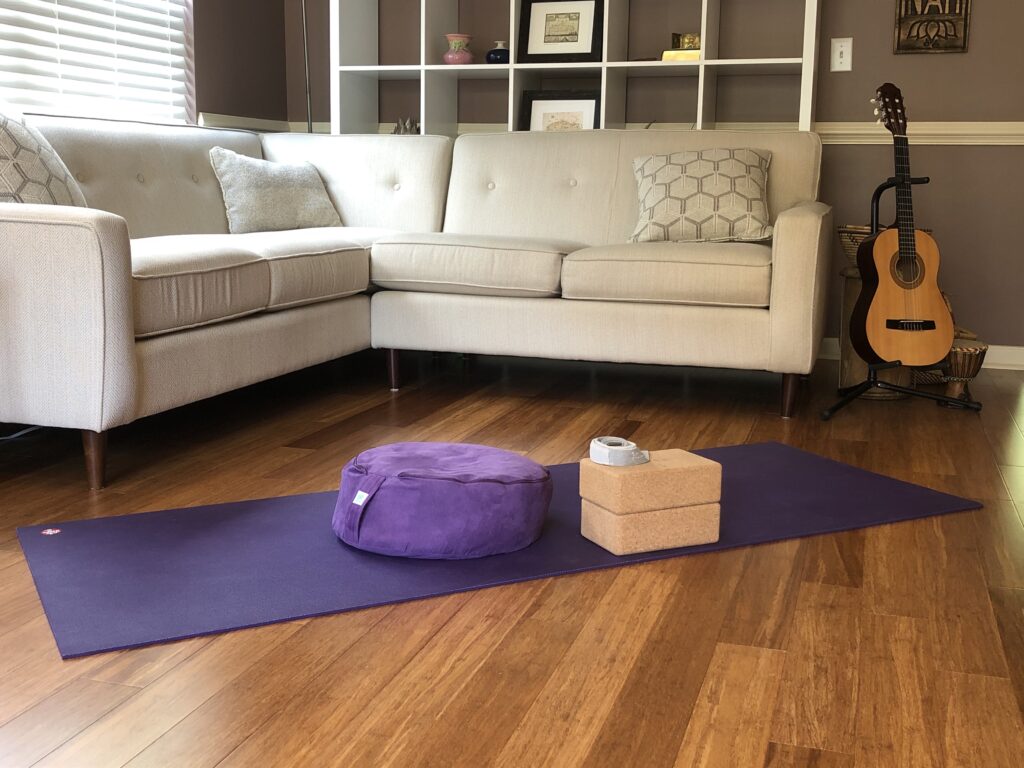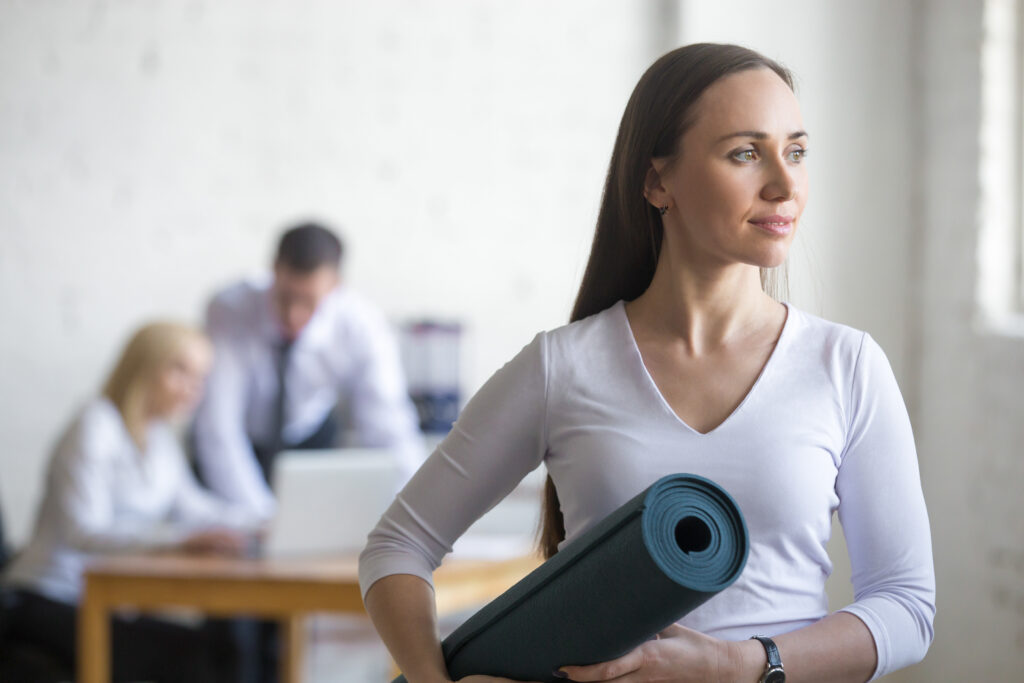 Office Yoga
We make it easy to bring the benefits of yoga – increased productivity, improvement in staff wellness, higher team morale and engagement – to your employees on your schedule.
Yoga classes are designed around your space – conference room, hallway, break-room kitchen, lobby, lounge or courtyard (even desk yoga/meditation classes). We use your space and offer a welcoming, intimidation-free environment for all levels of experience.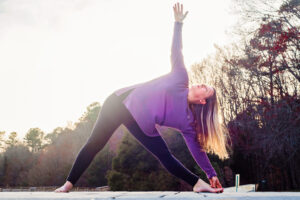 Meet Your Yoga Teacher
Tiffany Candioti is the founder and lead instructor of Yoga in the Triangle, teaching private, professional yoga classes in your home or office.
With her experience and training, she has developed a teaching approach that blends knowledge of the traditional yoga practice with the concerns of the modern world, addressing the physical and mental challenges that come from stress, sitting, and commuting.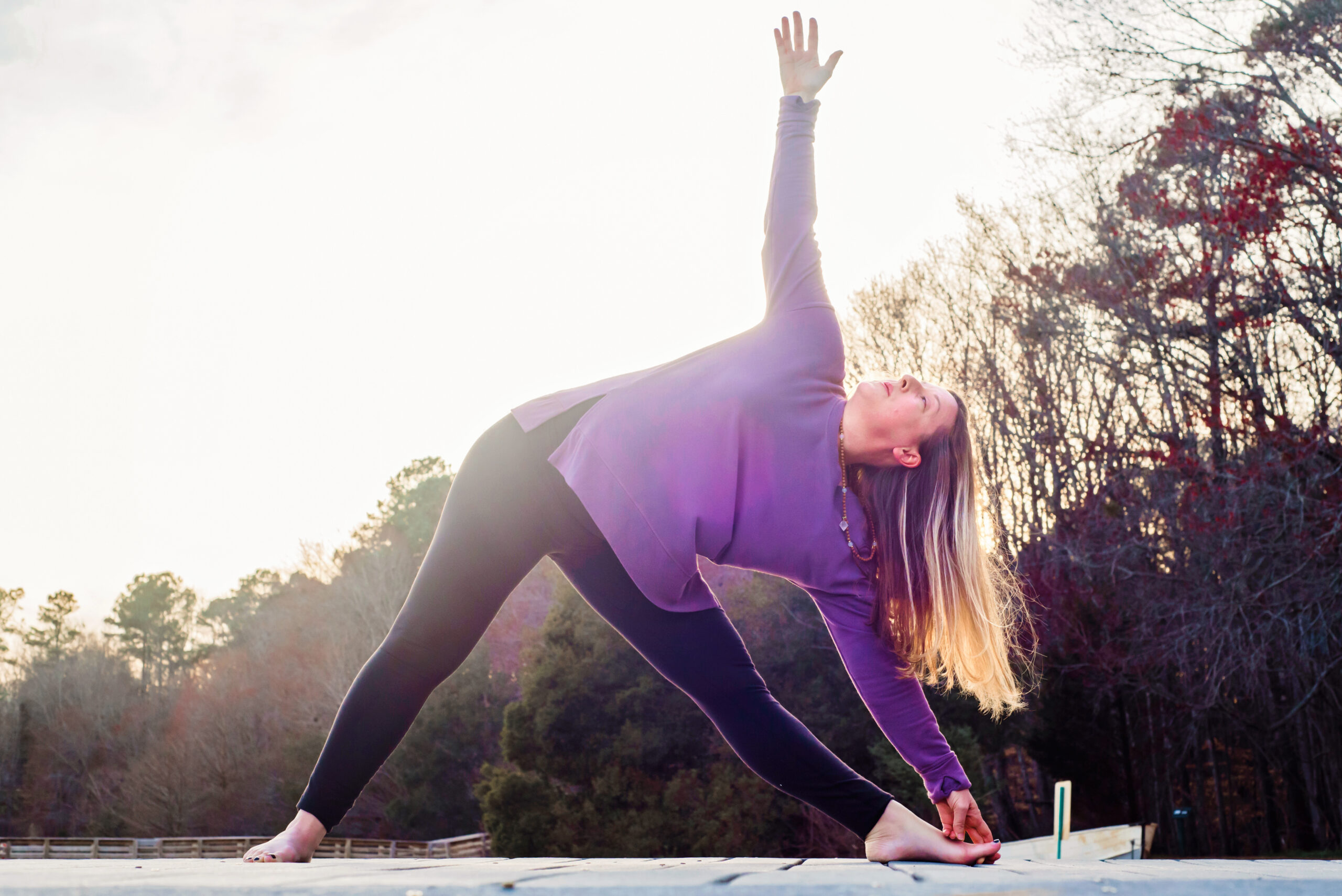 "Tiffany is a wonderful teacher! She is very good about giving options for beginners and advanced users. Her classes always leave me relaxed!"
"I've taken a lot of yoga classes and Tiffany has a great style of teaching that I prefer (and is hard to find!). Her presence brings a sense of calm, but she is also instructive so you can learn as you go. If you're new to yoga or have other physical limitations, she does a great job of providing modifications to poses. I have been to yoga classes where I felt more stressed at the end of the class because I felt I couldn't keep up, so I appreciate that she has the talent to correct your pose or offer alternatives without interrupting the natural flow of the class. I highly recommend her!"
"Tiffany is the real deal when it comes to yoga. She knows and lives the practice and more importantly, works to ensure that everyone realizes how yoga is for everybody. She offers beautiful variations to those experienced and wonderful modifications to those who may not be ready for the full expression of each pose. She also caters to all ages and abilities, being as proficient in chair yoga as other types of yoga. I encourage anyone to work with this lovely lady."
"I was fortunate enough to have Tiffany work with me throughout my 2nd and 3rd trimester. Tiffany came to my house 2-3 times a week and we went through asana and breath work! Before I got pregnant I was a yogi addict and I went through a teacher training myself but lost all confidence and motivation when becoming pregnant – Tiffany was able to help me find myself and my practice again. Not only was she an amazing teacher but she was also very professional. Tiffany always showed up on time and she was very understanding and sympathetic when I was having an "off day" I will definitely be reaching out to Tiffany once I am able to practice yoga again! Thanks Tiffany!"
"Tiffany teaches Yoga from her heart! She truly makes you feel relaxed and inspired to take care of yourself!"
"Tiffany is an amazing instructor. She has been coming to my workplace for a good while now. Sometimes we practice yoga outside and inside as well. She is very helpful and will help each student on getting better. First class!!"
"Tiffany comes to our office several times a month to offer us 45 minute sessions. She has gotten to know our strengths and weaknesses and works with us to ensure the routines she provides are tailor made so we can reap the maximum benefits personally. She is happy to work with our schedules, is flexible with our individual needs and is always positive and upbeat. I feel a million times less stressed after each session and can tell a definite difference in my stretching ability with her class versus an at home session. 100% Recommend. Can't say enough great things."
"Tiffany is the real deal! She is an incredible yoga teacher and even more compassionate. She is the only yoga teacher I would let come in to my office to work with my staff."