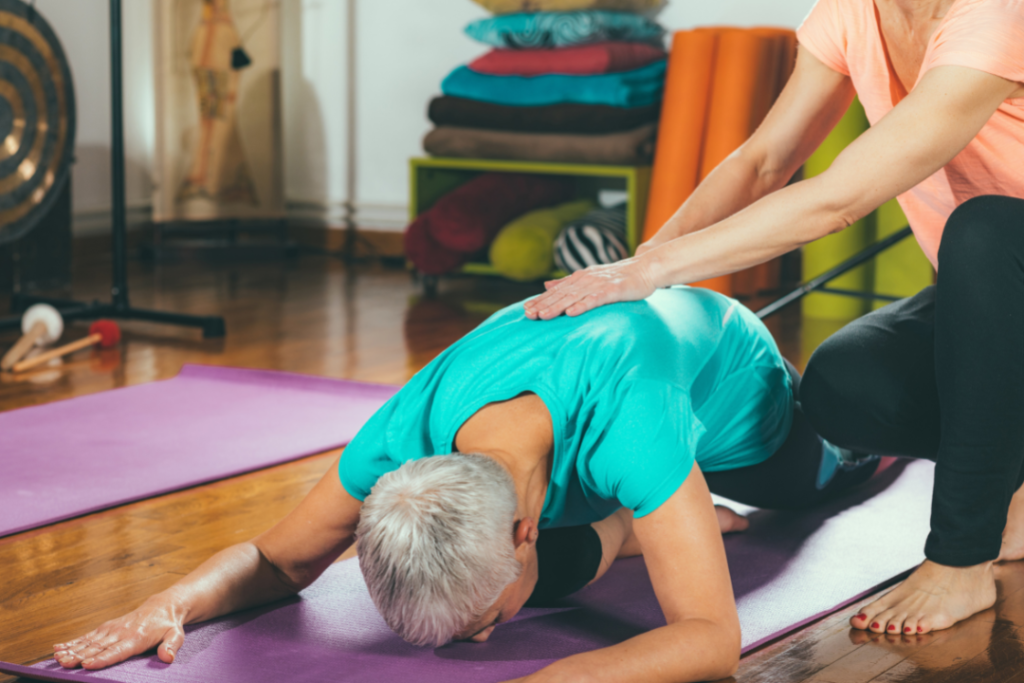 How much does private yoga cost?
Private yoga in your home starts at $75 for once per week. The majority of the people I work with find they benefit from practicing twice or three times per week. I offer discounts for twice and three times weekly sessions in your home or office.
Virtual private yoga is a flat fee of $60 per session.
Your introductory class is complimentary. Our first meeting is a chance for you to experience private yoga and determine if it is right for you and also if I am a good fit for you as a teacher. This first session is no charge.
What is your travel area?
I offer private yoga in your home or office in Raleigh, Research Triangle Park, Apex, Cary, and Holly Springs, North Carolina. I do not travel to North Raleigh, Wake Forest, Durham or Chapel Hill. I do maintain a referral list of fantastic private yoga teachers in those areas so please reach out if you would like a referral in your part of the Triangle.
Many of my students outside of my travel area opt to meet virtually via Zoom private yoga. I am happy to set up an introductory virtual class with you at no cost to try it and see if that option will work for you.
I am recovering from injury or surgery. Is private yoga a good option for me?
Yes. Most of the people I work with practice yoga after surgery or injury and in some cases during active treatment for cancer and other major health concerns. In some cases, I may request that you complete physical therapy and be cleared by your doctor prior to beginning private yoga classes. But, in all cases, my goal is to create a yoga practice designed for your body, your needs and your stage of life. Each private yoga practitioner's yoga practice will look different based on your goals and health history.
Do I need a separate room for my yoga practice?
Definitely not. I teach private yoga in living rooms, on the back porch, even an open entryway works. I have taught office yoga classes in conference rooms, hallways and even break room kitchens. My goal is to create a calm, supportive space for you wherever you are. I bring music, essential oils and props to set up a yoga-studio like experience in your home or office. All you need is room for your yoga mat.
Do you provide a yoga mat and props?
I do provide yoga mats and props. Most of my private yoga clients do wish to buy their own personal props once their practice is established. If you have carpet, there is a particular mat I recommend which is an investment, but makes a big difference for stability and comfort when practicing on carpeted surfaces.
I have a dog or a cat, will that be a problem?
Most dogs and cats benefit from the calm environment created by your yoga practice. Some dogs require more attention than we can provide during your session and in that case it can help if they are content being crated in the same room. Regarding animal allergies, I use separate blankets for each client and clean props between sessions. However, if you have severe animal allergies, I will probably suggest buying your own props right away so you can avoid using props that may have come in contact with a pet.
I have kids, will they be too much of a distraction?
My goal is to create the best experience for you given your schedule, your life situation and your space. If fitting your yoga practice in to your life means your kids are running around and interrupting you once in a while, that is no problem! I am a mom and have had to make adjustments to fit in my yoga practice. I think it is a very positive experience for children to see their parents and caregivers make time for yoga and self-care.
Is virtual private yoga as good as private yoga in-person?
Virtual private yoga is very convenient and for that reason the benefit can outweigh any drawbacks of not being able to be together in person. I have set up my virtual studio to be able to observe your practice and alignment with almost as much detail as in-person private sessions. Whether you are meeting with me in-person or virtually, you will receive much more personal attention and support than you would in a group class in addition to the accountability of having me hold the time on the calendar, ready to guide you and to make sure you are showing up for your yoga practice.
I have a health problem, injury or disease. Will yoga cure it?
Yoga is not a cure for injury or disease. Yoga is a mind-body practice that has been proven to reduce pain, stress and anxiety when practiced regularly. Injury, health problems and disease are complicated issues that can be influenced by many factors. If you have a health condition or injury you should seek the advice of a medical professional. However, yoga can positively benefit anyone at any stage of their life when adapted to the individual. Private yoga is yoga adapted to your needs and can support you through the process of recovery.