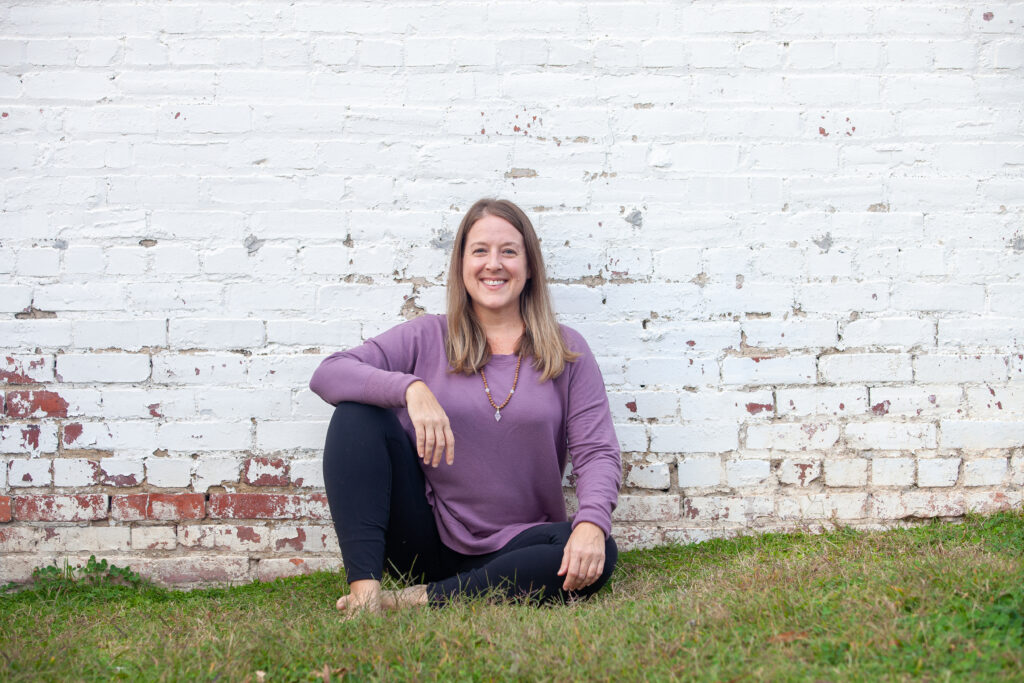 I'm Tiffany Candioti.
As lead teacher and founder of Yoga in the Triangle,
I offer professional, private yoga in Raleigh and surrounding areas taught right in your home, office, or virtually.
I bring yoga to you so you can experience the benefits of yoga without the schedule stress, commute time, or concerns about a group class setting.
Since I began practicing yoga in college as a complement to my movement and dance studies, yoga has always been a part of my life. After graduating at the age of 21, I traveled from California to the Catskills of New York to live and work at Ananda Ashram Yoga Society of New York in a search to deepen my understanding of the practices of yoga.
Years later, after transitioning into a fundraising and grant-writing role at a non-profit arts organization in California, I discovered that the ability to focus I'd learned through yoga and meditation lent itself to marathon sitting sessions at the desk; writing and preparing grants and reports.
The yoga class at the end of the day was a welcome relief, but over time, sitting for long periods began to take its toll on my body and overall wellness. Incorporating yoga, movement and mindfulness into my daily life helped me improve my physical and mental health.
A Career Dedicated to Helping Others
After moving to North Carolina, I made the decision to change careers and to dedicate myself to helping others prevent pain, discomfort, and stress through yoga and meditation.
I achieved my Registered Yoga Teacher (RYT-200) status through The University of North Carolina Health Care Wellness Centers, followed by advanced studies at the Raleigh-based Blue Lotus and completion of the Kim Sin Office Yoga Teacher Training Program. I have since taught over 1,000 hours of private and group classes and attained the designation of Experienced Registered Yoga Teacher (ERYT-200).
A Modern Approach to the Tradition of Yoga
With my experience and training, I've developed a teaching approach that blends knowledge of traditional yoga practice with the concerns of the modern world. I help my students heal the physical and mental challenges that result from chronic stress, anxiety, long periods of sitting, and recovering from pain or injury.
Through my private teaching I've also learned that not everyone wants to go to a studio or has the time in their schedule for studio-based yoga classes. That's why I bring the studio to you – at your home or office. I handle the travel, setup and cleanup, so all you have to do is open the door or turn on your computer.
I draw on a variety of yogic traditions and fitness modalities incorporating breath, traditional yoga postures, targeted core work, and functional fitness to design a yoga practice that fits your needs.
I'd love to help you undo your day with private yoga classes, wherever you are. Click the button below to contact me.
I look forward to bringing more yoga into your life.
Certifications and Trainings
I am an Experienced Registered Yoga Teacher (E-RYT 200) with Yoga Alliance, which acknowledges at least 1,000 hours of teaching experience since completing training with a Registered Yoga School. I am also CPR and First Aid certified through the Red Cross and carry current liability insurance.
My training includes:
Hatha and Vinyasa Yoga Teacher Training 200-Hour Certification with Hassina Mirica-Albukhary and Terhi Mengel at the UNC (University of North Carolina) Health Care Wellness Centers
Yoga for Beginners
Office Yoga with Kim Sin Office Yoga
Yoga Nidra (Yogic Sleep for Deep Relaxation)
Mentorship under Hassina Mirica-Albukhary of YTT Journey and Jill Sockman of Blue Lotus
Continued study in Meditation, Hands-on Adjustments, Alignment, and Yoga for Seniors in the Raleigh-based Blue Lotus Advanced Teacher Training Program